Results of these experiments were quite successful, giving women one way to express themselves. The famous designer Elsa Schiaparelli introduced use of unconventional objects and silhouettes as acceptable in high fashion. That's how you may have faces emblazoned on the front of shirts and jackets. Yarn on sleeves has hair for those faces, and plastic bugs for buttons. While couture fashion was out of reach for most women, the outlandish styles they portrayed were art forms worn on the body.
It was this freedom that allowed women to be more creative in their clothing choices. Instead of going to a couturier, some people took on the task of creating original fashion using the best technique they could in producing these clothes. Those who can sew well and could interpret their concepts into something wearable, were able to mimic couture quality clothing.Those who did not have the skills still created original art that turned out beautiful or failed at making a successful garment.
It is this differentiation that caused the variation of defining wearable art just as it is easy to determine good painting from bad ones. There is another contention among artists whether wearable art is truly an art form. While I believe the wearable art movement is still in its infancy, some of the driving forces that affect its legitimacy are technology, access, concept and skill. While making clothes does take a level of skill, it does not make one an artist. With technology giving people the ability to transfer their ideas into something a machine can interpret, it is almost always a pre-determined selection such as machine embroidery, machine applique, machine long arm quilting, sewing patterns and kits.
Access to technology and lack of skills do not prevent anyone from calling themselves an artist. There are many sewing and quilt guilds as well as hundreds of workshops and conferences across America that are open to all. Women wearing vests they've made with flowers and butterflies with machine appliques or sewn by hand are the result of attending such a workshop.
Cultural Influence in Fashion
The nude, they say, is the naked body clothed in culture, yet fashion is difficult to define. One thing that comes up frequently in defining fashion is its ability to move fast within the confines of culture. Along with fashion, beauty is almost always intertwined in defining it yet culture has more to do with defining beauty. Fashion is a complete reflection of society. It seems, internationally, the western ideal of beauty was adopted and stood as a standard for all to follow beginning from 1760 to 1840. The industrial revolution introduced technology that exposed new scientific inventions and communication around the world. In the late 19th century, the rotary printer was invented and the fashion magazine was created.
A good example began with copying naval military uniforms of the British by the Japanese soon after the Franco-Prussian War. In 1872, the Meiji emperor mandated men of the Imperial Court to wear western clothing consisting of a frock coat or hat or military regalia. In 1886, the women had to adopt the same rule by wearing corsets and bustles. It was during this period the Japanese elite realised a near-perfect imitation of western wear.
The Mechanism of Change
American advertising has helped distribute fashion especially after World War II. Reflections of lifestyles, fashions and trends made consumers aware of what was available. A massive amount of magazines were published just prior to the 20th century and among them was Vogue. In the forefront of American industries were fashion and publishing. The two united made for a unique blend that American women adopted and depended on for fashion news.
France has been considered the fashion capital of the world since the country's influence in European fashion towards the end of the 18th century. Even with the world in turmoil and fashion magazines and advertisements terminated during the German Occupation, France withstood the challenges and continued to be the capital for fashion. The introduction of new collections by designers in Paris exposed the country to the worldwide fashion audience while earning high credentials from the world of fashion. In 1981, Yoji Yamamoto persuaded Issey Miyake and Rei Kawakubo to show their collections. These Japanese designers made an impact that influenced the fashion industry because it demanded female independency which was quite controversial at the time.
Japanese Concept
Post-Apocalyptic fashion has been part of the fashion scene since the 1980s when Japanese designers received international notoriety for a new perspective on fashion. Asymmetry, architectural shapes, bold textures, Asian nuances and subdued colours were mainstream concepts accepted as Japanese fashion. They questioned conventional attitudes towards fashion and were considered to be subversive to western standards of clothing. The Japanese fashion aesthetic took on complex, multiple and multilayered ideas as part of their normal approach to designing clothes.
Segments of cultural pop assisted in the acceptance of the avant-garde lifestyle. The popularity of science fiction movies depicting the end and what life will be like after Armageddon or the Biblical Book of Revelations as concepts for movies have popularised the depiction of post-Apocalyptic life. First introduced in the 1980s, this unconventional design style was called The Day After and Post-Hiroshima. While Issey Miyake may not be the first Japanese designer to introduce Japanese-influenced designs, he was the epitome of Japanese aesthetics rooted in its country's history.
Wearable Art Defined
Difficult to define, wearable art is controversial among many art enthusiasts. "Serious" artists reject this new art medium that does not seem to fit the realm of fine arts. From painting and sculpture the top echelons of the art world, followed by photography then crafts. Crafts seem to be the best fit for this relatively new art form because it dealt with using textiles.While rejected by the fine arts for not having a concrete definition of what it is, fashion introduced the wearer as part of the work itself. Unlike the realm of dance or the use of space to build installations, wearable art doesn't require a level of intricate dexterity.
Most wearable art takes the form of clothing without a sense of real meaning or purpose but rather, more for decoration.The usual materials used are fabrics and textiles of many forms. Sewing is usually the method used in producing these pieces of "art". While couture is the highest level of fashion, couture can also be considered wearable art. But not all wearable art is couture mainly because it may not have been produced using the best techniques and/or materials. The end product is mainly concerned with the concept of the design, rather than quality. There are many levels of wearable artists and some of them may not even consider themselves artists. What defines wearable art is its intentions. And the more serious art with concrete concepts and intentions almost always is considered couture. It is this undefined meaning that helps to cause this art form to be taken seriously by others.
Moreover, it is the artists who separate themselves from sewing enthusiasts. Fibre arts, in comparison, are created by artists who specialise in the making of textiles. There are quite a few wearable artists who also consider themselves textile artists or fibre artists. But the two can be very different from each other, mainly based again on intentions.
Techniques Used in the Making of Wearable Art
Quilting
Quilts are technically defined as three layers consisting of the exposed layer, batting, and the back. Quilting has been an American tradition which utilised old clothing to repurpose by cutting into shapes sewn together either at random or in prescribed patterns. This was a good way to recycle fabric into a usable object for warmth as well as decoration on the bed or the wall.
The Art Quilt started during Victorian times as a way to use scrap fabric, mostly velvet and velveteen, to put together a quilt using random shapes of fabric. Seams were covered with ornate hand-stitching with thread and/or ribbon. Because these quilts did not resemble the usual symmetrically designed quilts, they were also called crazy quilts.
Stippling is the sewing of meandering patterns of stitching to create textures on the surface of the fabric. This design can be interpreted as wearable art or couture because of its conventional style yet unorthodox way of wearing clothes.
Fibre/Textiles Arts
Fibre/textiles art consists of printing, dyeing, painting, stencilling, discharging (take colour away), weaving, knitting, crocheting, and hand-stitching, among other techniques that can be used to create a wearable art piece.
Originally, the fabric used to make this garment was black. Discharging takes colour away like bleach. Strips of fabric were uniformly cut into half-inch strips, tied together and made into a ball of yarn. These strips were then crocheted together to make the scarf and sweater.
Digital Textile Printing on Textiles
One of the most important technological advancements in the development of textiles is the use of textile printing using dyes. Overall, digital printing on textiles works very much like a regular desktop printer but on a much larger scale. Textile printers can be wide enough to accommodate 60 to 84 inches wide fabric of any length required for the design.
This quilt was digitally printed on cotton sheeting and quilted using Channel or Shadow or Echo stitching, where one row of stitches follows another row of stitching a quarter of an inch apart from each other.
Hand Manipulation
Hand manipulation is literally the use of your hands to create special stitches or knots such as crocheting, hand knitting, machine knitting, embroidery, applique, knotting, weaving, ribbon work, felting and many other techniques using specific muscle dexterity.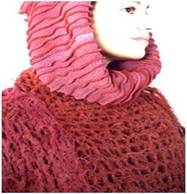 Title: Trebor (Quevedo, 2002)
Strips of rayon fabric were cut and crocheted to make this sweater and scarf. The head piece was made from strips of fabric that were dyed, then stitched together again.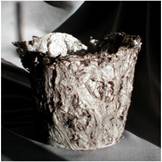 Untitled (Quevedo, 2001)
This vessel was created by cutting strips of thin synthetic fabric wrapped over a metal form that was then melted. Once cooled, the metal form was taken away and the fabric was plasticized.